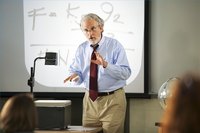 How to Set Up an Overhead Projector. The overhead projector has long been an aid in school and business presentations. There are three types of overhead projectors-stage, briefcase and portable. Each has similarities and differences. To use an overhead projector, you must learn to adjust them and set them up.
Identify the type of overhead you are using. Stage overheads are freestanding, shining light through the transparency and reflecting it through the lens. Portable overheads fold down and shine the light through the transparency, reflecting it off the base and onto a lens/mirror combination, toward the screen. Briefcase overheads fold down into a caselike shape and use the reflective top for showing the image.
Place your overhead projector about 6 feet in front of the screen on a sturdy, level table or desktop. Adjust the position as needed.
Attach a sturdy extension cord to your overhead. Adjust the placement to make sure it will not cause someone to trip after plugging it in. If there is a power source in the floor, remove the cover and use it without an extension cord.
Work with the angle of the projector to be sure the projected image is visible. Tilt focus knobs and turn reflective mirrors until you get the right effect.
Turn the projector on and check the placement of the transparency. Adjust any height and direction needs that appear after your presentation begins.