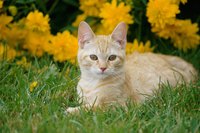 Cats are natural predators, and as such, have a need to hunt. Today's domesticated cat, especially those who live indoors, is content to lounge on the back of the sofa, and then waddle to the food bowl for a snack. This sedentary couch dweller is at risk for feline obesity and discontent due to boredom. Stepping up the entertainment at dinner or snack time can be as easy as creating a simple do-it-yourself foraging toy.
Things You'll Need
Shoebox
Box cutter
Duct tape
Shake out shoebox thoroughly to remove any dust or debris.
Cut holes in the shoebox with the box cutter, using the toys as your guide. The holes should be just larger than the toys, so your cat can pull them out when foraging inside the box. For the beginning forager, cut several holes in the box.
Fill the box with toys and cat treats.
Secure the lid with duct tape so your cat cannot simply pop off the lid to enjoy the toys and treats inside.