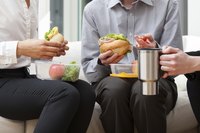 Gossip in the workplace is bad for morale and bad for business. Telling tales and tarnishing reputations is not only unprofessional, it quickly destroys the sense of camaraderie and teamwork that are essential to a healthy business. When gossip invades your department or company, take steps to put a stop to it and create a happier work environment for all employees.
Set the example and refuse to listen to gossip on any level. Present a professional image by being cheerful, courteous and pleasant, and when employees come to you with gossip about colleagues, tell them you prefer to leave personal issues alone.
Schedule a meeting to talk about how you want to stop gossip in your workplace. Define gossip. Some people may not realize they are gossips because they simply see it as chatting and exchanging information. Let them know that gossip includes rumors that are personal and intimate in nature and seem sensational or emotionally exciting. It's never appropriate to talk about another person's private life.
Establish a company policy that forbids tolerance of gossip. To stop gossip in your workplace, decide on and communicate consequences.
Give your employees strategies for curbing gossip. Tell them to walk away when someone else wants to gossip. Encourage them to avoid the "coffee clique" that hangs around the break room, especially if they are known gossips. Fires that are not fueled soon burn out.
Choose a supervisor or someone who is mature, responsible and has good judgment about people to serve as a mediator when conflicts arise between employees. Nip conflict in the bud before rumors start spreading.
Tell your employees you want to stop gossip in the workplace not only on a personal level, but also gossip that arises about company issues. If your company goes through hard times, communicate openly with your people. Encourage them to come to you with questions and concerns. Open communication helps to stifle rumors and misinformation.