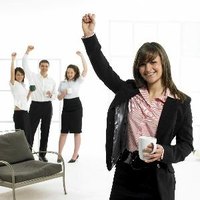 How to Create Group Synergy With Facilitation. Human synergy occurs when the combined effort of two or more people is greater than the sum of the individual efforts. An effective facilitator works to achieve common goals by encouraging synergy. You can create group synergy by developing an office culture that values and respects the talent of its employees.
Value every view. Rather than operating with a "majority rules" approach, seek to achieve consensus. This may take more time, but group members will see that they all play a role in coming to the best decision.
Affirm that each person has a unique set of strengths that the group needs. Encourage an employee to develop in skill areas where she has a natural inclination. Workers enjoy their work more and the group stands to gain from their fulfillment.
Insist that group members look to each other for direction and validation. This fosters cooperative conversation. It drives home the point that the facilitator guides the group rather than taking a solely top-down approach.
Praise the group for whatever qualities you want to see more of, whether that is speed, quality, efficiency, creativity, or other important criteria for the project at hand. In this way, the facilitator provides direction and validation.
Maintain balance between individual and group needs. Valuing the individual while keeping the common goals in the forefront requires skill and insight, but it is essential to maintain a well-functioning group.
Focus on external threats and obstacles. Such a focus helps diffuse competition and build cooperation. Rallying the group to overcome a specific obstacle is a unifying activity.