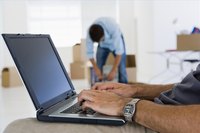 When you relocate your business, you want to spread the word about your new location as quickly as possible. Your website is one excellent tool for this purpose. Posting a business relocation message on your website directs customers to your new location without the high cost of traditional advertising.
Announce your relocation on the website's home page. Many users will only give your website a cursory glance, so don't expect them to find your new address buried on the "Contact Us" page. Put it front and center on the home page where no one will miss it, and leave it there for several weeks or months, depending on the nature of your business and how frequently your clientele generally visit the website..
Highlight the message with a bold font and contrasting colors. The general rule for websites is to make the pages are uniform and pleasing to the eye, but this is an exception. With a business relocation message, it's important not to blend -- make it jump from the page instead.
Provide the new address, telephone and fax numbers in the announcement. Even if your telephone numbers remain the same, always keep them front and center alongside your business address. Potential customers demand convenience.
Add a link to Google Maps or provide written directions both from the nearest highway and from the old business location. The easier it is for customers to find you, the more likely they'll follow your business to its new home.
Insert redirect links if your business is online and your website has moved. Some webhosts provide this service; others require you to create the redirect manually. Make sure your customers can follow a link trail to your new location.