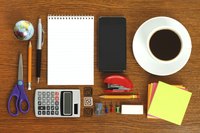 The cost of office supplies adds up, especially if you're just starting up your business. Scoring free office supplies leaves you room for other business essentials. Sampling a variety of freebies can also help you make good choices when it comes time to buy supplies.
Points Programs
The major big-box office supply retailers offer points programs that award you with points for each dollar you spend in their stores. Staples Rewards and Office Depot Rewards allow you to use these points toward future purchases. If you need to buy a computer or office furniture for your business, save the points you earn to buy paper and pens. You can earn additional points for turning in used printer cartridges.
Rebates
Both Office Depot and Staples also have rebate programs that make some purchases free after the rebate. For example, you buy a ream of paper, pay for it upfront and a few weeks later receive a check for the full amount of your purchase. Check weekly ads for current rebate promotions.
Giveaways
Visit a trade show in your field and you're likely to come home with enough pens, notepads, sticky notes and other supplies to stock your desk for a long time. Also, visit manufacturer websites and look for giveaways. Promotional companies such as Myron (myron.com) will send you free samples of pens, calendars and other items to try. Sign up for Post-It Perks (post-it.com) and receive free product samples throughout the year.