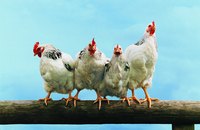 While a few natural remedies may get rid of chicken mites, medications are often necessary to eradicate the troublesome parasites. You can try these natural remedies first if you wish, but seek veterinary assistance if you continue to find mites on your chickens or in their enclosure. Because mites also infest your chicken's enclosure, you must take steps to clean the enclosure as well.
Safe, Simple Solutions
Fresh Eggs Daily, a website providing information about natural chicken care, contends that garlic-based mixtures are safe and effective for treating mites. The website advises chicken owners to mix one ounce of garlic juice, one teaspoon of an essential oil, such as thyme, lavender or spearmint oil, and 10 ounces of water in a bottle, and then spraying your birds liberally with the mixture.
Daily Dust Baths
Dust baths – which wild fowl use to keep ectoparasite populations in check – are an important control measure during and between outbreaks. Offer your birds a suitable bathing area with plenty of dry sand; for extra efficacy, add some hardwood ashes, which kill chicken mites and other parasites, to their bathing areas. During prolonged rainy periods, place a shallow tub filled with sand in your chicken's shelter so they can still take dust baths.
Veterinary Solutions
Your veterinarian can prescribe a number of different medications that may be helpful in killing your chickens' mites. Amitraz, carbaryl, malathion and pyrethroid-based compounds are among the most popularly prescribed medications, but many others exist. Unfortunately, mites in some areas have developed resistance to some insecticides, necessitating the use of alternative medications. While often effective, many medications used to treat chicken mites are not specifically designed for treating chicken mites.
Environmental Measures
In addition to treating your birds, you must treat their coop to eradicate a mite population. (Reference 1) Sprinkle food grade diatomaceous earth on the floor of the coop, which will kill a large number of the mites. Additionally, clean the entire area with a pressure washer. (Reference 1) Be sure to clean any cracks or crevices in which the mites may lurk. If the infestation is severe, or you are unable to control it quickly, consult your vet to decide on a safe insecticide to treat the environment. (Reference 1)
Cause for Concern
Left unchecked, mite infestations can lead to anemia and other health problems, so treat all infestations promptly. Mites may even serve as vectors for disease transmission. According to the Merck Veterinary Manual, several different equine encephalitis viruses, fowl poxvirus, some salmonella strains and several other diseases may be transmitted via chicken mites.