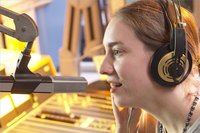 How to Hold Radio Station Giveaways. Radio stations hold giveaways nearly every day. Giveaways are anything from tickets to a concert, gift certificates to a restaurant or a free service from a local business. As a business owner, radio station giveaways can provide your business with some extra advertising and heightened public relations. Below are steps to help you hold a giveaway through your local radio station.
Decide what product or service you will give away to the public. The bigger the freebies, the better PR for your business. Consider giving away free merchandise, services for a month or gift certificates.
Call the advertising department of the local radio stations and find out the requirements to donate your products or service as an on-air giveaway. Many stations may simply use your freebie as a prize for a trivia contest, but bigger giveaways may have more requirements.
Consider organizing a giveaway that requires listeners to nominate a recipient or write a short essay on why she should win. Use this type of contest for larger giveaways on special holidays, such as a full day at your spa for Mother's Day, given to a local deserving mom.
Provide more than one giveaway in order to keep information about your business in the public. For large giveaway contests, consider providing first, second and third place prizes.
Put information about the giveaway on your business website and allow participants to register there for the larger giveaways. Also, ask the radio station to put information about the contest and a link to your website on their web page.
Advertise your business on the radio station, especially when providing a large giveaway as suggested in Step 3. Be sure that your advertisement mentions the giveaway and directs listeners to your website for more details.