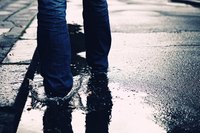 Disney World's Animal Kingdom is a celebration of animals and the outdoors. So, while many avoid visiting on wet days, perhaps they shouldn't, because rain can make this park look lush and vibrant. Some rides close when there's heavy rain or lightning, but many of the park's attractions remain open for visitors. Whether you're interested in staying dry or willing to embrace an authentic rainforest experience, your rainy day at Animal Kingdom will be well-spent.
Head to Kilimanjaro Safaris
Kilimanjaro Safaris is the highlight of any trip to Animal Kingdom. This 18-minute excursion takes you through the park's 110-acre reserve in a covered vehicle. Those passengers seated at the perimeter of the vehicle may get wet when the drops start to fall, but the experience of taking the ride in the rain is worth the inconvenience. Many visitors report that the animals are at their most active when it rains. And, because the crowds thin during these times, you can take the ride more than once. You'll never have the same experience twice.
Take in a Show
Enjoying an indoor show allows you to dry off, rest your feet and immerse yourself in Disney magic. "Festival of the Lion King," lasting about 30 minutes, combines music from "The Lion King" with acrobatics, stilt dancers and audience participation. The 40-minute stage show, "Finding Nemo - The Musical," recreates scenes from the movie using huge puppets, and the eight-minute "It's Tough to be a Bug!" is part stage show and part 3-D film.
Seek Indoor Attractions
A few of Animal Kingdom's attractions will keep you as dry as a dinosaur bone. DINOSAUR is an indoor thrill ride that takes passengers back in time to save an iguanadon from extinction. The Wildlife Express Train runs on a loop through the park. One of its sides is open, but you can stay dry if you sit in the back row. The Conservation Station is filled with interactive exhibits where guests can learn about the habitats and care of the park's animals.
Get Wet
If you don't mind getting wet, pull on a poncho and explore Animal Kingdom's trails. Wander through the Maharajah Jungle Trek, an area modeled after Southeast Asia, or walk the Africa-themed Pangani Forest Exploration Trail. In both areas you'll see that region's native flora and fauna and can watch animals from observation stations. A light rain won't dampen the fun of riding Kali River Rapids. You're bound to get wet or even soaked on this river rafting ride anyway.