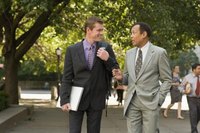 In order to stay on top of your business game, you need to keep your clothing pressed and ready. When traveling, in order to keep your suit from wrinkling, it is imperative to pack it well. Here is a way that you can pack a men's suit for optimal protection and neatness. When you unpack at your hotel, nobody will be able to tell the long journey that it went on with you!
Pack the suitcase. Before trying to pack the suit, it is important to fill the suitcase with all other pieces of clothing and travel-related items. The suitcase will need to be nearly full in order to pack the suit tight.
Lay the suit down across the top of the full suitcase. The collar should be 1 inch below the hinge of the suitcase top. The arms of the suit should be folded neatly over the front of the suit.
Place the pants of the suit on top of the suit jacket. The waist line will be on the right side of the suitcase along the shoulder of the suit, with the legs of the pants hanging over the opposite side of the suitcase.
Fold the jacket bottom over the legs of the pants toward the hinge of the suitcase.
Finish the pants. Finally, fold the pants legs toward the waist line of the pants and over the suit jacket. The packing is complete.