How to Start a Cupcake Business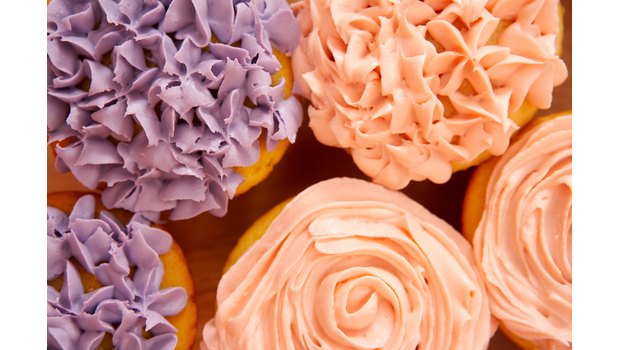 Misha Kuryla-Gomez experienced in 2005 what a host of new mothers may encounter: the dichotomy of wanting to work while also desiring to be at home with their baby, experiencing all the joys of motherhood. That year, at the nexus of two experiences -- hearing a National Public Radio segment about the cupcake trend heating up in U.S. cities and the well-received donation of her cupcakes to a cancer charity (baked from her mother's beloved recipe) -- Kuryla-Gomez laid her fingers on a solution: She would put her mother's recipe to use, baking and selling her fun creations to local businesses. Her success exceeds even her loftiest expectations. After seven years, Kuryla-Gomez now owns and operates four Misha's Cupcakes retail stores in Miami and wholesales to 35 area buyers, including supermarkets, cafes, restaurants and convenience stores. In a jovial conversation, stuffed with the gaiety befitting her product, Kuryla-Gomez shared with eHow the lessons of launching an American dream.
Viewing 1 of 10
Overview
As you've probably noticed over the last few years, cupcakes are in. With sales still growing every year, the cupcake boom seems to be more than just a passing fad. If you're planning to start your own cupcake business, here are nine tantalizing cupcakes and ideas to spark your imagination.
Rachael McMahon
Viewing 2 of 10
Funfetti
Food blogs are great for getting creative juices flowing, and cupcakes are in heavy rotation. Rachael McMahon's blog features photos and tales of her delightful and delicious creations. Pictured here are her party ready funfetti cupcakes filled with sprinkles. When deciding on your menu, be sure to have some fun recipes in mind. You'll want to position your cupcakes to be the life of the party.
Rachael McMahon
Viewing 3 of 10
Little Cakes
A cupcake is the perfect way to get a few bites of your favorite flavor without the temptation of an entire cake. Play with classic cake varieties such as carrot cake, pictured here, and pineapple upside down cake.
Rachael McMahon
Viewing 4 of 10
Surprise in the Middle
The Girls at Our Best Bites created a tempting peanut butter cupcake with a swirl of chocolate and peanut butter frosting. Then they took it a step further by adding a peanut butter cup inside the cupcake. Push the boundaries of the ordinary cupcake by baking in an extra treat.
Sara Wells and Kate Jones
Viewing 5 of 10
Get Creative
There's no limit to what you can do with a cupcake. Jane Ko crafted a tasty and adorable tribute to her dog. Creative designs such as this can make your cupcake stand out from the rest.
Jane Ko
Viewing 6 of 10
Wedding Cupcakes
The wedding industry can be a great opportunity if you're starting your own cupcake business. More and more, towers of beautiful cupcakes are replacing standard tiered wedding cakes. If you're equipped for large custom orders and can work with clients to create specific colors and looks, you should consider it.
Rachael McMahon
Viewing 7 of 10
Reinvent Classics
Rachael McMahon says these chocolate cupcakes with white chocolate ganache icing are a "deliciously sophisticated twist on the classic chocolate cupcake." Making your recipes unique will set you apart from the many cupcake shops out there. Try a little something different with your cupcakes.
Rachael McMahon
Viewing 8 of 10
Presentation
The presentation of your cupcakes can also go a long way in making your product memorable. "Be creative with packaging," McMahon advises. "Nothing shows someone that you care more than beautifully thought out packaging." Play with different and fun ways to wrap up your cupcakes.
Rachael McMahon
Viewing 9 of 10
Classics
Of course, some customers will always want the classics. Red velvet is an example of a hugely popular flavor that you'll want to include on the menu.
Rachael McMahon
Viewing 10 of 10
Holiday Cupcakes
Holidays throughout the year are a great excuse for sweet treats. Try developing themed cupcakes around holidays. This can apply to the design or the flavors or, ideally, both. Here, McMahon introduced spice to a vanilla cupcake to "add a hint of warmth for the festive season." With some creative baking, your cupcakes could become must-have holiday traditions.
Rachael McMahon
eHow: Why cupcakes?
M.K-G.: I guess on a global scale they're enticing because they're small and they allow you to have a sampling of a lot of different flavors that you might want to try, and you couldn't with a big slice of cake. Ours are a little bigger than bite-size. They're just fun. They remind you of being a kid.
eHow: What is the first step to starting a cupcake business?
M.K-G.: I did not create a business plan. I went to business school and all of that stuff, and I know you're supposed to, but for me it didn't really make any sense.
When I started, the whole point was to generate some income, and I had this recipe of my mom's and it was delicious. So it was easy from that aspect: to start with what I knew. And then I figured, "Well, you have to have some variety. Some people don't like chocolate." So I did pretty much the same as my mom's chocolate recipe but in vanilla.
But I think for someone just starting out, yeah, you have to have something that is good because people will try it, as your friends … but if it's not good they're not going to come back and buy it. You have to have something that is good, something that sets it apart from somebody else's cupcake or cake or whatever else it'll be.
.
eHow: When should someone consider moving to a larger space?
M.K-G: At the end of 2006, I started to think, "I want to open a store."
In 2007 … my house was filled with bake stuff. Everything was baking. And my husband was like, "This sucks." It was too much. And we had people coming into my house every single day of the week.
The whole point of me starting the business was so we could have money, not go into debt. So in 2007, instead of doing a store, I ended up renting a warehouse. That warehouse, in 2007 summer, is when I opened my first sort of -- it was a kiosk in Dadeland Mall. It was great. It was like a baby step into actual retail sales. From there, that next summer in 2008 is when I opened that first store.
eHow: How much would you recommend someone have saved to start up?
M.K-G: (It depends) on whether or not you plan to go the route of buying new or used. I bought used, and it served me well, because everything I bought used was gently used. ... You've got to think of your ovens and your refrigerators and stuff like that. If you're going directly into a store, you'll need $12,000 just to put down, and then you'll need to build out the store. I just did the Miami Lakes store and that one cost me $75,000 with everything, just to get going. (And if you want to start up in your own kitchen) you can go to Michael's or Wilson's to get what you need and spend a couple thousand dollars and you'll be ready to go.
eHow: At a minimal location how many cupcakes did you have to sell to cover expenses?
M. K-G.: Well, the thing about that Dadeland Mall kiosk, the rent there was $5,300 a month. It was just ridiculous. So we kind of looked at that and we broke even, you know, we would make $1,000 to $2,000 profit a month, but you had to sell $15,000 to break even at that location. We were (selling) like 500 to 600 cupcakes a day there and then, depending on the season, it would be like 800 cupcakes, and then we had all of our wholesale orders.
You know, when I was at the warehouse we would make probably 2,000 cupcakes a day on average ... and now like a normal day we make 8,000 cupcakes. On a busy day, we'll make 15,000. Now it's a lot bigger. Our profit is [about] 30 percent.
eHow: When should someone consider marketing and branding?
M.K-G.: Well, I'll tell you what happened for me because I don't know how it's supposed to work, but I was doing it for about a year and I had a neighbor -- he came up to me one day and said, "You know, every party I go to I'm eating your cupcakes. And every time I ask whose they are, they're like 'Yeah … they're Misha's, or whatever,' and they show me your box and I'm like, 'Oh.' Can I help you with your branding?"
And I said absolutely, that would be wonderful.
It was such a turning point for me, to have that recognizable logo, because people really identified with it for some reason. (So) immediately. I mean, not really having had that (initially), I think that those people who do start out with a catchy logo or something that people will remember, it's so much easier for (their customers) ... because that's what catches people's eye. Obviously, they'll remember flavor and that kind of thing, but (a logo) makes it.
eHow: How do you maintain good quality control when you've grown so big you can't do it all yourself?
M.K-G.: That part is tough. And I've had some ups and downs with regard to the people that I sell to. For me, I work in the kitchen every day. I bake every cupcake. So I know, the cupcake, the bottom part, is good. It's always up to the same standards. I have had times when people have said they're too dry or too moist. I'm not saying I make them perfect every time but I know that if something is wrong it's my fault. It'll get to a point where it won't be my fault and I'll have to deal with that at some point because then I'll be frustrated.
This lady came in the other day and she told one of the girls, "Oh, is that Misha in the back?… I thought it was just a name."
And it's like, yeah -- I don't want this to go under. I have a lot of money into it so it's like my baby -- it's one of my children.