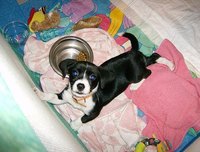 My dogs are spoiled. Rotten. Here is a baked treat you may want to make for your spoiled pups. They freeze well, so you don't overfeed your pups.
Things You'll Need
1 1/2 c. Oat Flour
1 c. Oats
1 c. Oat Bran
2 tsp. baking soda
1 tsp. cinnamon
1 egg
1/4 c. honey
3 TBS vegetable oil
3/4 c. milk
1 jar carrots baby food (or apples, or cooked chicken)
PREHEAT oven at 425 degrees.
MIX dry ingredients. In another bowl mix egg, honey and oil. Pour milk and carrots in dry ingredients. Then blend in your liquid ingredients.
POUR into muffin tins. BAKE for 15 to 20 minutes.