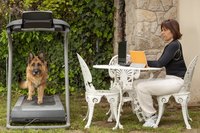 Dogs need their exercise to remain healthy and happy. While it's best to get them into the great outdoors for a walk or a romp and socialization with other dogs, exercising your dog outside may not always be possible. Hazardous weather conditions or physical limitations may keep you and your dog confined indoors. If this is the case, Fido can get his daily dose of exercise by teaching him to use a treadmill.
Choosing a Treadmill
Dogs can be trained to use the same treadmill you have at home. If you're going to purchase a treadmill for your dog, you can buy one specially designed for him. Typically, dog treadmills have longer treads than human treadmills, allowing for a longer stride, and side rails to help prevent Fido from falling off. You can buy a water treadmill, which alleviates stress on his lower joints by placing less weight on them when he works out.
Setting Your Dog's Goals
Always consult with your veterinarian prior to beginning any sort of exercise regimen with your dog. Have your dog's doctor set realistic goals in terms of time and distance completed on the treadmill, and ensure he is physically healthy enough for exercise.
Introduction to the Equipment
Your dog needs to be well-trained on a leash prior to beginning any training with the treadmill. Use a harness for training, since too much pressure from a collar can potentially interfere with your dog's breathing. Take your time and go slowly; rushing the experience may make him afraid of the treadmill. If your dog has long hair, make sure it is pulled up and secured so as not to get caught in the tread. Begin by having your dog sit near the treadmill, and allow him plenty of time to become accustomed to the sound of it while it's running. Praise him and give him treats, creating a positive association between your dog and his new home gym.
Mounting the Treadmill
Next, coax your dog onto the treadmill and ask him to stand quietly while it is turned off. Spend plenty of time teaching him to mount and dismount the treadmill from the rear, and correct him whenever he attempts to dismount from the side. Pull his leash taut enough to support him in the center of the treadmill. Praise him profusely and reward him with treats each time he properly climbs onto the treadmill.
His First Steps
Once your dog is accustomed to standing on the treadmill, allow him to take his first steps by turning on the treadmill at a very slow speed. Stand at the front of the treadmill and encourage him to walk toward you. At the same time, keep his leash pulled tightly enough that he can't fall off the back of the treadmill. Only ask him to take a few steps during these first sessions, and reward him when he walks forward.
Building Momentum
Once your dog has mastered his first steps, gradually build his sessions in time and intensity. Alternate between the two, one day asking him to walk longer, the next day asking him to walk faster. Slowly build up to what will be his regular workout routine. Closely monitor his condition, since dogs will work past the point of exhaustion. Pay attention to the room temperature at the time of his workout and immediately remove him from the treadmill if he begins to foam at the mouth.