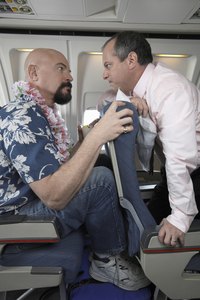 Before you write a letter of complaint to an airline, make sure you have a valid argument to make. If you're expecting a full refund because a snowstorm delayed your departure, you aren't going to get very far. Most airlines have toll-free numbers where you can make a complaint, but putting the issue in writing will help you document what happened. You can also contact your travel agent, tour operator or anyone else involved in your travel problem.
Content of Complaint Letter
When you're drafting your complaint letter, be detailed about what happened and remain professional. If you're angry and emotional, it will be easy for the airline to dismiss your complaint. Include the facts, such as the flight number, point of departure and where you arrived. If you have photos, for example of damaged luggage, include that documentation with your letter. Tell the airline what you expect in terms of restitution, whether that's a refund, an apology, a discount on your next flight or replacement of something that was damaged.
Form of Complaint Letter
Some airlines provide instructions on where to send your complaint. Check your airline's website and send a letter to its mailing address or electronically via email or directly through its website. If your complaint can be condensed, consider social media. A well-worded tweet will often get the attention of your airline quickly.