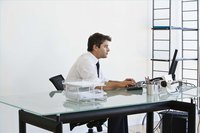 How to Write a Status Report. When tackling a large scale project, one of the most important things to do is keep your team informed of the status of your work. This can be accomplished by writing status reports. These reports provide an overview of the project itself, what you have accomplished and what work remains to be completed. Follow these tips for writing a status report.
Ensure that you have clearly defined goals for the project. Since large projects involve many people and resources, you want to be sure your report covers how these people and resources are working toward that goal. The best way to do that is to be sure you understand the big picture before you begin.
Verify the required format for the report and the time period it should cover. Status reports can be created as formal reports or as more informal communications like emails. Check with your management team or the group requesting the report to determine how often the status report needs to be created and to make sure it is formatted correctly.
Begin the report by providing a general overview of the project and what steps your team has accomplished as of the reporting date. Be sure to mention any problems or issues you have encountered and how you have resolved them.
Discuss the next steps you plan to take on the project, including both proposed time frames and any changes to the original project plan or budget. It is helpful to include how these actions will help accomplish the overall goals of the project.
End the report on a positive note by including a statement of confidence in your team's ability to complete the project successfully and on time. Include contact information and an offer to follow up to personally discuss the report in more detail.