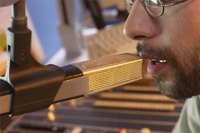 How to Set the Equalizer on a Microphone Mixer. Sometimes you step out of a prepared setting for a presentation. You wander into fields or into a dining hall, or even someone's home. For these moments, you need to calibrate your microphone mixer equalizer to your speaker and setting. Don't panic; it's not hard. With a few minutes of prep time and the speakers on hand, you can have them sounding great.
Set the gain knob to center ("5"). This isn't where you're going to keep it, probably, but it's a starting point for determining high and low gain for a given speaker.
Speak into the microphone yourself. This isn't for gain adjustment so much as to give you an idea of the room's acoustics. If the room's resonance gives a baser feel, go ahead and adjust the gain up a little.
Give the microphone to the speaker. Have him speak into it for a few and adjust the gain for his channel, which is the one that the microphone is plugged in to. Do this step for each speaker and microphone.