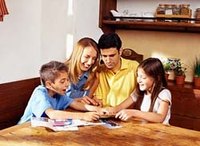 While the money may be tight or traveling expenses can be high, it is possible to take vacations on a low budget. By traveling off season, staying at low cost hotels with continental breakfasts, or visiting national parks where you can take trails, your family can still spend quality and enjoyable time together. If the family works together by saving change, doing odd jobs and cutting back, a vacation can be planned in your family's future.
Study your family's income and budget. Find areas where you can cut back on such as extra clothing purchases, dining out, or haircuts.
Save each dime, penny, nickel, or quarters that you get. Purchase or find a big glass jar where all of the family's change can go. Drop all of your change into the jar each time you have it. Every penny will add up.
Have your children chip in by doing chores or other small jobs around the neighborhood such as mowing lawns, raking leaves, shoveling snow, walking dogs, and babysitting. If the children can help, they will feel like they are part of the project as well.
Clip all the coupons and shop at all of the sales that you can find. Try coupon matching at your local retail store that offers it too. Try to save money on all grocery purchases. Create a weekly dinner menu and purchase only the items needed to prepare meals without buying a bunch of extra food and snacks.
Look through vacation booklets and brochures. Study the places that you and your family would like to go. Plan for low cost hotel stays, eating out, and family activites and try visiting areas that have national parks where it is low costing or free to attend. Stay at hotels that offer continental breakfasts. Plan your family's vacation onto paper and determine the exact costs of everything so your family will know how much is needed to be saved.