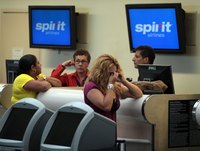 During inclement weather, travelers will want to know if their flights have been delayed before making the trip to the airport. In addition, you may want to find out if your connecting flight has been delayed at your layover airport. Unfortunately, delays in air travel are becoming commonplace as airports get more congested. But there are simple ways to check the status of the flights on your itinerary prior to even leaving your house.
Go to your airline's website and find the place on the Web page where you can check flight status. Enter your flight number or the "From airport" and "To airport" information in the fields to look up information about your flight. The system will tell you whether your flight is on time, delayed or canceled. If it is delayed, a new departure and arrival time should be displayed.
Call your airline's automated flight information telephone line. Many airlines now have computers that ask for voice prompts from you. Just follow the instructions and prompts from the automated system to navigate to information about your flight. The system should tell you if the flight is delayed and by how much time it is delayed at that moment.
Visit the Federal Aviation Administration's Air Traffic Control System Command Center website (see Resources) to view flight delay information on a map of the United States. The map shows major airports and average departure and arrival delays at each airport. The system also shows why such delays may be taking place. The reasons can include weather, heavy traffic or air traffic control procedures.
Visit a weather information website to look up weather information in your departure city, layover or transit city (if applicable), arrival city and anywhere along your prospective flight route to get an idea if any weather patterns might contribute to a delay in your flight itinerary. If major weather patterns are present, air traffic control may be delaying outbound departing flights, delaying inbound arriving flights, diverting aircraft around the weather, placing flights in holding patterns or diverting them to other airports if the weather situation is particularly hazardous. This all would contribute to a delay in your departure and arrival.