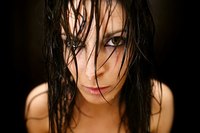 Some people dread showering or heavy activities that will require showering due to the fact that their hair tangles very badly. Reclaim your shower and prevent this from ever happening again with a few easy tips.
Things You'll Need
Flat, square brush
Spray bottle with water and conditioner
Rubberbands
Snapping barrettes
Conditioner (with de-tangler if you need it)
Re-hydrant spray
Brush your dry hair thoroughly when you're getting ready in the morning. Ensure that no knots or tangles remain.
Place a compact brush in your purse in case you need a quick touch up or if the weather (such as strong winds) forces you to redo your hair.
Take your hair down and brush it out again right before you step into the shower. Again ensure that you're knot and tangle free before jumping into the shower. This shouldn't be too difficult if you already removed any previous tangles that morning.
Wet your hair and place the shampoo in the palm of your hand. Spread it onto your scalp.
Massage the shampoo into your scalp and hair gently. Use a smooth massaging motion to prevent further tangling. Continue massaging until the shampoo has been distributed to all parts of your head.
Rinse the shampoo out of your hair and gently comb through any tangles with your fingers.
Place the conditioner in the palm of your hand and work it into the middle section and ends of your hair. A squeezing type of motion should work well. There's no need to massage the conditioner in.
Leave the conditioner on for a few minutes before rinsing. As you rinse, run your fingers through your hair to determine how tangled it is. If you hair seems to be extremely tangled, then you can condition your hair a second time.
Soak up excess water from your hair after your shower with a towel. Try to brush your hair from root to tip, stopping as soon as you hit a knot or tangle that prevents you from moving the brush any further. Do this all the way around your head.
Spray a re-hydrant spray that contains a detangler onto the tangled spots of your head. Flip your head over and spray the back and bottom of your hair as well. Now you should be able to comb through your hair with a fair amount of ease. If any knots persist, spray the re-hydrant directly on the knot.