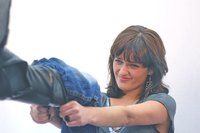 Have you been curious about trying the UGG trend? In almost every part of the world, UGGs can be worn year-round as a wardrobe staple. They keep your feet warm, they can be matched to your outfit, and you can look like a celebrity wearing them. But without a little guidance, those comfortable and trendy everyday boots can cause a fashion faux pas. Read on to learn how to wear jeans with UGGs.
Things You'll Need
Purchase a pair of tall UGGs. They will look better and are easier to wear with jeans than short UGGs.
Wear a pair of skinny jeans (jeans with a slim leg). If you do not like or own skinny jeans, go to Step 3.
If wearing jeans with a flared leg, wrap the excess denim around your ankle. Don't roll the leg of the jeans up; instead, wrap the fabric around your leg.
As you are putting your foot into the boots, your hand will go into the boot with your leg. Your hand should hold the fabric taut as you slide the boot over your foot and onto your lower leg.
When jeans are comfortably tucked into the boot and the boot is completely on your foot, make minor adjustments to the jeans to be sure the vertical seams are not wrapped around your leg.