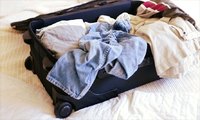 Any seasoned traveler will tell you that one of the major keys to a successful trip is to pack as little as you need. With the readily and very cheap laundry services available in Southeast Asia, packing light is the only way to go. Of course, anyone could pack for any length of trip in one bag as long as the bag is big enough. But, we're talking about a bag you can carry on the airplane with you. Who has time to hang around for baggage when there are new places to explore?
Choose your bag wisely. To carry it on the plane, it needs to be the right dimensions, which typically are 22 x 14 x 9 inches. A waterproof, soft bag (to squish in above your seat is good) with wheels is highly recommended. Locks are debatable; they are easily broken and hold up the security checkpoint process. If you feel better locking your suitcase, then get a lock. Make sure your identification is inside the luggage as well as the outside.
Think warm and wet. There is lots of rain and high temperatures in Southeast Asia. Unless you are traveling to high altitudes, you don't need to worry about packing a jacket. Clothing fabric should dry quickly and there are a variety of new synthetics to fit this bill, but some of us can't get away from cotton, and that's OK. Shoes should be the kind that can take a lot of water abuse, too.
Mix and match and dress modestly. All packed clothing should match and be interchangeable. For women, a skirt, two pairs of pants, five shirts or blouses, two pairs of shoes (make sure they are sturdy and good for walking), five pairs of underwear, five pairs of socks, two to three bras, a wrap or scarf or sarong and a bathing suit is all you need. Throw in a pair of earrings, a watch or bracelet and you are all set.
Coordinate outfits. For men, all packed clothing should match and be interchangeable as well. Two to three pairs of pants, five shirts, two pairs of shoes, five pairs of underwear, a light jacket and a bathing suit is sufficient.
Remember, you'll be traveling in wet sauna-like conditions. Do you really need to bring all those toiletries? You hair most likely won't cooperate with the weather, so leave all the products at home. Moisturizers will be superfluous as will make-up. Take a toothbrush and toothpaste, deodorant (if so inclined), razors, shaving foam, comb, brush, extra sunscreen, soap and another little bottle of whatever you can't live without. That's it.
Stay dry. Pack an umbrella and some sort of very lightweight rain jacket, but resign yourself to the fact that you'll be getting wet.