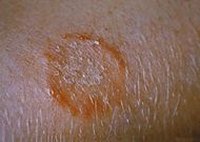 There are several different types of fungal infections that affect people. Some of these infections include athlete's food, jock itch, ringworm, fingernail and toenail infections and yeast infections on the skin. Fungal infections cause itching and discomfort and can damage the skin. Fungal infections are relatively easy to get, but more difficult to eliminate. Here are some tips for treating fungal infections.
Things You'll Need
Garlic
Tea tree oil
Vinegar
Keep the area with the infection clean and dry. Moisture is your worst enemy when you have fungal infections. Applying an anti-fungal powder will help keep the area dry without irritating the skin.
Wear clean loose cotton clothing over the infected area. This may mean socks, underwear, or other soft loose fitting clothing. This will keep the area protected, but allow it to breathe.
Apply tea tree oil to the fungal infection. You can apply this several times a day. It has a strong smell that may make you think it will burn, but it is quite soothing.

Consume garlic or garlic capsules to make your body a hostile environment to fungus. You can also rub it on the skin.

Eat yogurt and drink cranberry juice to eliminate yeast infections.
Soak toenails and fingernails in vinegar to eliminate fungal infections. Apply tea tree oil to your nails daily. See a doctor if a fingernail or toenail infection persists.