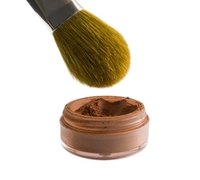 The oval face shape has historically been the most coveted shape for its balance and photogenic appeal. Though other face shapes are attractive and increasingly found with models who grace the covers of magazines, many women wish to minimize some facial features. One solution is to shade the forehead, chin and nose with makeup for more balance and to further enhance the eyes and lips.
Things You'll Need
Good quality makeup brush
Makeup sponge
Highlight color (optional)
Loose translucent facial powder
Prepare your skin for makeup by cleansing, toning and moisturizing with products suitable for your skin type. Remove any rough patches on the skin by using a facial scrub. For makeup shading to look realistic, it requires smooth skin in good condition.
Secure your hair away from your face and outline your face on a mirror with a makeup pencil that can be easily removed. For a more exact evaluation of your facial structure, take a photo of your face and outline the shape in a photo editing program. This will guide you on how to shade the forehead, chin and nose with makeup to create the effect you are after.
Take notice of prominent areas that detract from your other facial features, such as a wide or high forehead, a broad nose or a pointed chin. Visually estimate where and how much you need to shade the forehead, chin and nose with makeup, and measure the width against a makeup brush. Slight shading may require a smaller brush.
Obtain a good quality medium-sized makeup brush and a powder bronzer that complements your skin tone. Select a shadow color that is two to three shades darker than your skin color. Look for a hue that is believable as a natural tone, such as that developed from sunning. Avoid bronzer that glitters.
Apply an oil-free foundation and proceed to shade your forehead, nose and chin with makeup by first dipping the brush in the bronzer powder and tapping off the excess. Then apply the powder down the sides of the nose and the areas you wish to minimize on the forehead—either width or height or both. Shade either a cleft into the center of the chin, or apply along the jawline to reduce fullness.
Highlight the center of the nose with makeup that is lighter than your skin tone. Under eye concealer or a light eyeshadow works as a good substitute.
Blend any strong edges with a facial sponge or reapply another light layer for a more striking effect. Darker colors may be used for evening wear and in photography as long as lines of demarcation are not apparent.
Finish setting your makeup after you shade your forehead, chin and nose by applying a light dusting of loose, translucent face powder.