Bangkok, Thailand, is a wonderful location for any world traveler. Bangkok offers the best that modern city living has to offer, as well as ancient temples and historic sites that will leave you amazed and inspired. Bangkok is also a historic center for Buddhist philosophy, making Bangkok a spiritual center as well. With so many aspects to this incredible city, you will certainly want to do your homework so that you can make the most of your trip to Bangkok. Here are some tips to help you plan your trip to Bangkok, Thailand.
Step 1
As soon as you even suspect that a trip to Bangkok might be in your future, contact the Bangkok Tourism Department right away to request travel information. They will be more than happy to provide you with an abundance of information in addition to what can be found on their web site (see Resources). You can request visitor information by sending an email to info@bangkoktourist.com.
Step 2
Research festivals that take place in Bangkok. You may find a festival that you would like to witness first hand, in which case it will be important to consider this information when deciding your travel dates. The down side is that hotel rooms will be more expensive and harder to find during festivals. You can get an up-to-date list of festivals by visiting either the "Bangkok" section of the GoThailand website or by visiting the "What's On" section of Bangkok.com (see Resources).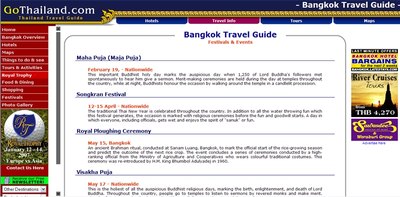 Step 3
Read traveler reviews about various activities and attractions in Bangkok, Thailand. Web sites like Tripadvisor not only maintain detailed lists of various attractions for each destination, but allow individuals to give a review of their experience when visiting. This gives you a good indication of what to really expect when you get there.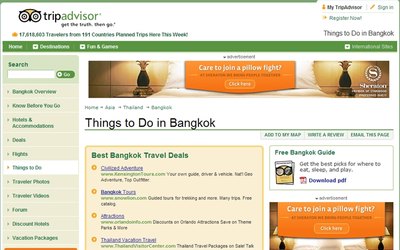 Step 4
Make sure that all passports are ready, valid and up to date in preparation for your trip to Bangkok, Thailand. Those visiting Thailand from outside the U.S., or U.S. citizens who will be visiting for more than 30 days, may also be required to obtain a visa before departure. You can get additional information by visiting the U.S. State Department (see Resources).
Step 5
Research airfare, lodging and make reservations. It is recommended to research fares at multiple vendors--local travel agents, directly at the airline, or through third party booking sites, such as Expedia. One source will usually stand out as being the best bargain. You can sometimes save money by booking flights and hotels together, so check into bundling these items.