While iron is found in a variety of foods, you may not be absorbing as much as you think. Nutrients in certain foods decrease iron absorption. If you're among one of the groups at risk of not getting enough iron in your diet, including children, teen girls and women of childbearing age, you may want to be aware of these nutrients to balance your diet and improve iron absorption.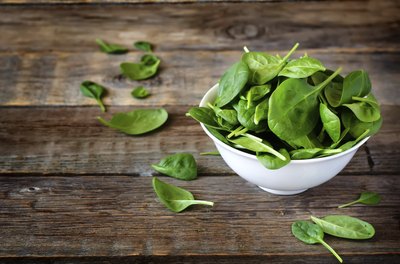 About Iron
Iron is an essential nutrient naturally found in meat, seafood, nuts, beans and vegetables. It is also added to some grain products through fortification. Iron is an essential component of hemoglobin, a protein in your blood that transports oxygen throughout your body. You also need iron for normal cell function and to make hormones and connective tissue.
Nutrients and Foods That Interfere With Iron Absorption
If you're eating a healthy and balanced diet, it is likely you may be consuming foods that interfere with your body's ability to absorb iron. The calcium in milk and yogurt, for example, decreases iron absorption. Eggs also contain a substance that impairs your body's ability to absorb iron.
Oxalates found in spinach, kale and strawberries also interfere with iron availability, as do the polyphenols in apples, blueberries, raspberries and walnuts. Phytates are compounds found in high-fiber foods such as beans, peas and cereal grains and soy protein that decrease iron bioavailability and may reduce your body's iron absorption by 50 to 65 percent, according to the Iron Disorders Institute.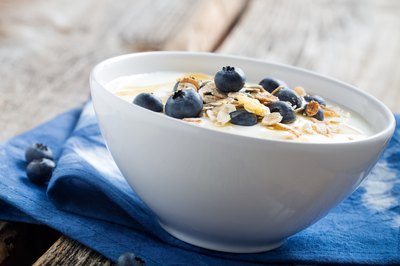 Foods That Enhance Iron Absorption
To counterbalance the effects of iron-depleting foods, fill your diet with foods that enhance iron absorption. Vitamin C, found in foods such as peppers, oranges, tomatoes and broccoli, improves iron absorption.
Beta carotene also improves iron absorption and may help overcome the iron-inhibitory effects of phytates, says IDI. Carrots, sweet potatoes, peppers, corn, apricots and peaches are all good sources of beta carotene.
Getting the Most Iron
To get the most iron out of your meals, eat foods that enhance iron absorption with high-iron foods, and have iron-depleting foods between meals. For breakfast, a bowl of iron-fortified oatmeal with raisins and a glass of orange juice makes a good option for maxing iron intake. A few hours later, you might enjoy nonfat yogurt with an apple. At lunch, top mixed greens with grilled chicken, chickpeas, shredded carrots, sliced peppers and cherry tomatoes and serve with a peach. Whole-grain crackers with low-fat cheese makes a good midafternoon snack. For a high-iron dinner, try grilled salmon with a baked sweet potato and steamed broccoli.