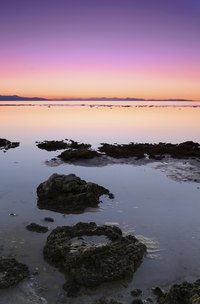 Along the untouched northwestern shore of the Great Salt Lake, a work of art known as Spiral Jetty reveals itself when water levels are low enough. The curled jetty is more than 15 feet wide, allowing you to easily walk out along its 1,500-foot length to see the pink lake waters that play around its base.
The Spiral Jetty
Artist Robert Smithson built the jetty in the springtime of 1970. A product of the time when artists were taking their works out of museums and into natural surroundings, the jetty consists of local materials such as basalt, salt crystals and mud. The artist admired the erosive force of nature, and Spiral Jetty becomes encrusted with salt and swept by lake winds, changing its appearance every time it emerges. The pastel hues of lake, desert and sky make the jetty particularly appealing in the pink light of dusk or dawn.
Planning Your Visit
Before driving out to Spiral Jetty, check the lake level through the U.S. Geologic Survey's website. Lake levels can vary by as much as 20 feet, and the jetty remained completely underwater for 30 years -- from 1972 to 2002. The jetty is best viewed at water levels below 4,195 feet and disappears when water is over 4,197 feet. Water levels vary from season to season and year to year. Lake levels are typically at their lowest during October and November.
Getting to the Jetty
The Spiral Jetty lies down the same remote gravel road as the Golden Spike National Historic Site, where the last spike joining the Union and Central Pacific Railroads forged the first coast-to-coast railway. The historic site has restrooms, drinking water and vending machines, but you may want to bring a picnic lunch to enjoy at a shady picnic site. Once past the historic site, you'll no longer have cell phone service. Your car should have ample gas for the 80-mile round trip to the nearest gas station in Corrine, Utah. Bring plenty of water, snacks and waterproof boots.
Thinking Ahead
The north arm of Great Salt Lake is significantly more saline due to limited circulation caused by a rail bed built across the lake in 1959. If kids are a part of your jetty adventure, or if you want to romp in the lake's water yourself, bring several gallons of extra water and a solar shower bag to rinse the salt off skin. Put wet clothing in a sealed plastic bag for the return trip to prevent a thin layer of salt and sand from covering everything in your trunk as water evaporates.