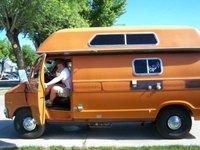 Located in remote southeastern Idaho, the town of Preston is home to Napoleon Dynamite. The breakthrough indie film hit that became a worldwide phenomena in 2004 was filmed entirely in Preston and the surrounding area. Since the film has become such a sensation, a Napoleon cottage industry has sprung up in Preston and it makes for a nice, kitschy day-trip for fans of the movie. Here are some tips to help you on your uber-geek Napoleon Dynamite pilgrimage.
Things You'll Need
Orange Ford Astro van with a sleeper-top, circa 1970s (or other vehicle)
"Vote For Pedro" T-shirt
Some crazy looking hair, hat or wig
$2.95 for a tourist map of the film's shooting locations
Getting to Preston. The closest major city to Preston is Salt Lake City. Take I-15 north out of Salt Lake to Exit 362, then take a right on US-91 heading towards Logan. Stay on 91 all the way into Preston. It is about a 2 1/2 hour drive from Salt Lake.
Get into Preston. Stop at a convenience store and plop down a few bucks for a tourist map of sights from the movie. Most stores will have these. It is essentially a photocopied folded-up piece of paper, but it will be most helpful and makes for a nice, cheesy take-home souvenir.
Napoleon's house. Head here first. It's down a mangled dirt road way out on the edge of town so expect a bumpy ride. People still live in this house so show some courtesy. They only filmed the outside scenes here, so don't go knocking on the door expecting to see the inside of Napoleon's house as the interior scenes were filmed at another location.
The high school, Pedro's house (and other locations). In town there are many of the other filming locations. The high school and Pedro's house are close to each other and the thrift store where Napoleon went shopping is run by the LDS church and is called Deseret Industries, or DI for short. The playground where Napoleon played tetherball is not located at the high school. It is behind Oakwood Elementary, at 525 South and 4th East.
You can finish up your pilgrimage on a good day trip, so there's no need to stay the night in Preston. It's not much of an "after dark" kind of town. One option is Lava Hot Springs to the north, which has a few hotels, a couple of bars and its famous hot springs or just head back to Salt Lake in the evening.