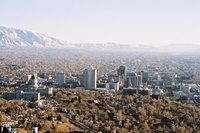 Not long ago there was a supermodel who was dating a famous basketball player when she said Utah was the most boring place she'd ever been. She was referring to Salt Lake City's lack of nightlife, apparently, and she was probably the type of person who is averse to being out of doors. Many people have this notion of Utah, because it is a state mostly populated by members of the Church of Jesus Christ of Latter Day Saints, more commonly referred to as Mormons. Despite the omnipresence of this religion, though, it is still possible to enjoy Utah if you're not a Mormon.
Understand that Utah is not completely filled with conservatives. In fact, the liberal population of certain sectors is quite vocal and instrumental to change. Former Salt Lake City mayor Rocky Anderson is a liberal Democrat who was actually reelected to a second term in 2003. The gay and lesbian community in Salt Lake is vibrant and strong. Outside of Salt Lake there are pockets of resistance to the status-quo, especially in environmental circles, and Utah is a very "green" state. Even many conservatives are environmentalists.
Explore the nature in Utah. Utah has more national parks than any other state except California and Alaska. If you consider yourself a nature lover or outdoors man, there is no finer place to be than the geographically and geologically diverse Beehive State. From hiking, biking and hunting to rafting, snow-skiing and ... did we mention hiking and biking? The town of Moab, near Arches National Park, is a mountain biker's nirvana with its world-famous Slick Rock trail. If you're in downtown Salt Lake City you can be on world-class hiking trails inside a true wilderness area in just a 10- or 20-minute car ride up one of the many scenic and protected watershed canyons. And, of course, there is the world famous powder for snow-skiers. What makes the snow better in Utah than, say, Colorado? The enormous Wasatch Front mountain range, which always captures the first, driest and finest powder snowfall on the continent after the clouds carry it on a the long trip from California across the Great Basin.
Enjoy arts and culture in Utah. The TV and film industries are big in Utah, and many series and movies are filmed here, as well as most every car commercial you've ever seen. It it also home to the biggest and most influential film festival in the country, Sundance. Every January filmmakers, celebrities and tomorrow's stars converge in Park City to set the zeitgeist for the movie world and help determine next year's hits.There is also much good music to be heard from touring acts in Salt Lake and nearby Park City. Since the next closest big city is 500 miles in each direction, the two cities make for a convenient stopping point for major acts on tour, especially during the warmer months, when the many outdoor amphitheaters in the region fill up. Sting said after his performance at the opening ceremonies for the 2002 Winter Olympics was the greatest moment of his musical career. That's gotta count for something, right?
Enjoy the nightlife in Utah. Granted, the club scene is not what it is in other big cities, but it still exists. The main difference is that nightclubs in Utah must be private if they want to serve liquor drinks. If you are not a member you must get someone to "sponsor" you at the door, or pay a temporary membership fee. It sounds like more of a big deal than it is. Just ask someone to sponsor you at the door and buy 'em a drink when you get inside. There are bars that are open to the general public, but they only serve beer and wine, and you must order food. The blue laws in Utah sound complex at first, but are easy to navigate once you understand them or have a local friend who does (see Resources below).