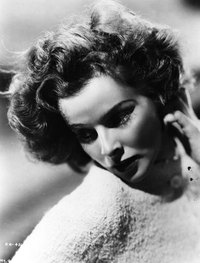 Rita Hayworth's rich, luscious curls and Gene Kelly's dapper suits are just two iconic fashion highlights from the 1940s. The fashion staples from the tumultuous decade that included World War II and post-war life continue to influence major fashion houses, such as Prada and Dolce and Gabbana. Most of the cuts and fabrics from this era remain classic wardrobe choices. Choose from fitted suits and killer hats to bring this decade into focus.
Tailor-Made
The most essential piece in a 1940s wardrobe was a good suit. Jackets that cinched in at the waist paired with a pencil-style skirt were essential for women. Men often wore suits that had plenty of width in the trousers and a longer hem on the jacket. Add a tweed or wool jacket to any outfit to recreate that glamorous '40s look. Go a step further and look for full suit sets for a look that evokes Cary Grant or Janet Lee. Ladies can add a bejeweled pin to their lapels and some round-toed heels for added elegance.
Sheath Metal
Women knew what a good evening dress was all about in the '40s. Floor-length gowns in metallic and shimmery fabrics were essential. Creams, pinks and dark grays were favorite colors. Look for dresses with dramatic sleeves and a tailored, fitted waist. Many dresses from 1940s had dramatic, open backs and draping around the shoulders. Add a faux fur and some chunky costume jewelry earrings to get the full evening look. Women in the '40s normally chose one star accessory to go with their fabulous dresses to keep it simple.
Top It Off
Hats were a top trend in the 1940s. Men had a wide range of fedoras in high quality wools and blends. Search for hats that have a subtle tweed or dark wool weave for a classic look. Women often wore small hats with feather and flower accents, but avoid large feathers when you trying to recreate understated '40s glamour. On the more dramatic side, women opted for wide-brimmed hats and conically shaped pilgrim hats. Add a hat with an interesting shape or opt for a simple hat with a feather accent to amp up the style.
Hair It Is
Many movie stars wore luscious curls under their pretty hats, as Rita Hayworth often did. Roll your hair using a set of hot rollers and allow them to set for about 15 minutes. Release the hair and apply a shining serum to the big curls. Men who want to channel Gene Kelly can keep their faces neatly shaven and use a small amount of mousse to keep hair smoothed back and out of the face. Opt for a slight side part to really channel the 1940s.
Make It Yours
The secret to glamorous 1940s makeup is total simplicity. Apply a matte foundation and keep the blush a light peach color on the apples of the cheek. Add black liquid eyeliner to the top lash line, working in small dashes as close to your lash line as possible. Apply fake eyelashes to the top lash line and leave the bottom lash line clean and open. Opt for a subtle pinkish-red lipstick in a long-lasting, matte formula.