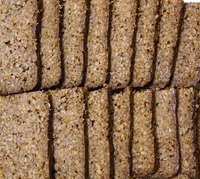 High levels of inflammation in the body may exacerbate your arthritis, according to the University of Wisconsin School of Medicine and Public Health. Making changes to your diet, such as decreasing your intake of certain types of starchy carbs, may help reduce inflammation and arthritis symptoms. Talk to your doctor about your diet and how it may help your arthritis.
Starches and Inflammation
Chemically, starch is a complex carbohydrate found in vegetables such as potatoes, beans and corn, as well as breads, cereals and grains. Starchy foods that cause a rapid rise and drop in insulin levels seem to increase inflammation, says the University of Wisconsin. These foods are referred to as high-glycemic foods and include foods such as white bread products, instant rice and corn and rice cereals.
To reduce inflammation and improve your arthritis, include more low-glycemic starches such as dense whole-grain breads, oatmeal, high-fiber cereal, beans, peas, lentils, pasta, brown rice, quinoa and barley in place of the high-glycemic starches.
Good Breakfast Options
A good breakfast with anti-inflammatory starches includes oatmeal with fresh blueberries and almonds and a cup of nonfat milk. Berries are rich in antioxidants that also help reduce inflammation.
Another option might include dense whole-grain toast with peanut butter and a fresh orange with a container of nonfat Greek yogurt.
For an anti-inflammatory breakfast on the go, make a healthy smoothie with strawberries, bananas, ground flaxseeds and almond milk. Omega-3-rich flaxseeds also act as anti-inflammatory agents.
Anti-inflammatory Lunch
For lunch, enjoy a quinoa salad filled with cucumbers, red onions, carrots, cherry tomatoes and chickpeas, served with an apple. Aim for eight to 10 servings of fruits and vegetables a day on your anti-inflammatory diet, says the University of Wisconsin.
Another lunch meal might be a bowl of leafy greens topped with grilled tuna, walnuts and raspberries with a whole-grain roll and a cup of bean and vegetable soup. You might also enjoy whole-grain corn tortillas stuffed with sliced chicken and cooked peppers and onions with a side of mixed greens and a bowl of fresh melon.
Dinner for Arthritis
Enjoy whole-wheat pasta tossed with broccoli, cauliflower, carrots, diced chicken breast and marinara sauce and sprinkled with Parmesan cheese for dinner. You might also consider omega-3-rich grilled salmon with a side of pearled barley and spinach sauteed in garlic and olive oil. Another healthy anti-inflammatory dinner with low-glycemic starches might include a stir-fry made with snow peas, napa cabbage, red peppers and tofu tossed with soba noodles.