Whether it's your first anniversary or your 15th -- and even if dinner is take-out or a night out at an upscale restaurant -- adding themed decorations and entertainment makes the night special and memorable. Consider your interests as a couple and your relationship history as you plan the evening, and don't worry about adhering to stereotyped notions about what constitutes a memorable anniversary dinner.
(firatgocmen/iStock/Getty Images)
An anniversary dinner at home doesn't have to mean boring or ordinary. If sushi is a favorite treat, create a memorable Japanese anniversary with a menu of sushi take-out food. Sit on cushions and eat at your coffee table with a serene centerpiece of one or two small candles in a tray made to look like a zen garden with sand and a few rocks. Wear kimonos, drink sake with your dinner, and experiment with orgami paper-folding for entertainment after dinner, perhaps moving on to the traditional Japanese bath later.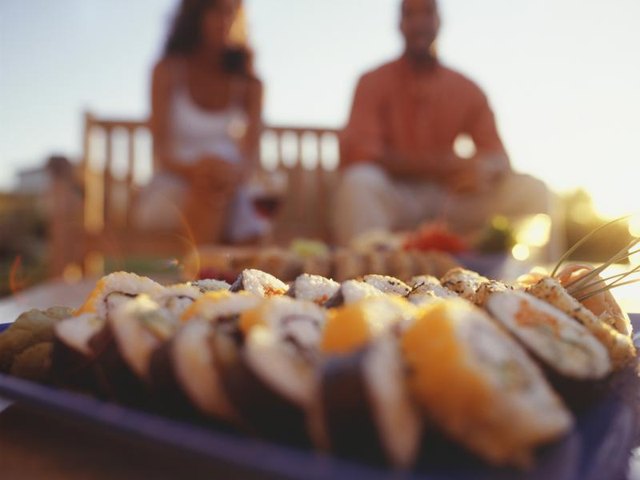 Ryan McVay/Valueline/Getty Images
Relationship therapist Jeremy Nicholson suggests eating new food or going to a new place to keep romance alive as you and your spouse share an out-of-the-ordinary experience. Take his advice and splurge on dinner at an exciting, upscale restaurant that neither of you have ever gone to before. Order different appetizers, entrees and desserts that you've never tried, and give each other tastes from your plates. After dinner, stroll around the block or visit a new store and buy gifts for each other.
Jupiterimages/Stockbyte/Getty Images
You don't need to be celebrating a milestone anniversary, such as the 10th or 25th, to throw a party in honor of you and your spouse. Invite your favorite friends or family, and decorate with wedding photos, balloons and streamers. Serve your favorite foods and top off the menu with a cake that resembles your own wedding cake, along with champagne toasts to each other and to your guests. For entertainment, play charades using titles of romantic movies and books, or play a version of "The Newlywed Game" and ask guests about their own dating experiences and how they perceive you as a couple.
Purestock/Purestock/Getty Images
Recreating your wedding, your first date or your honeymoon -- either in the same location with identical decorations and the same gifts -- makes an anniversary special. If your honeymoon took place at a fancy hotel, have dinner at the same venue, complete with champagne, cake for dessert, sharing memories and talking about favorite moments in your life together. If you went camping on your honeymoon, visit the nearest national park and upgrade to stay in the lodge instead of the campground.
David De Lossy/Photodisc/Getty Images
Promoted By Zergnet