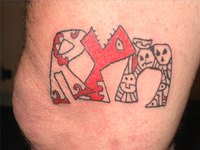 Years have passed since you kicked him out, but you still have Manny's name tattooed on your bicep. Rather than undergo costly and scar-inducing removal surgery, you can choose a tattoo to cover a tattoo with a few simple tips. Just make sure the new one is not your new boyfriend's name, unless you're sure it'll last forever.
Things You'll Need
Tattoo you hate
Imagination
Sample designs
Tattoo artist
Sketch out your current tattoo on a piece of paper. Make a few copies so you can play around with designs that will cover it.
Determine a type of design that will incorporate and/or completely cover the old design. If Manny's name is in the center of a heart, for instance, you can use the heart as the starting point for the middle of a decorated sun or a demon's head. Start sketching over the old tattoo.
Be realistic. A pastel butterfly is not going to do the trick over thick block letters—unless, of course, you incorporate the letters to be part of the butterfly's wing design.
Bring your idea to a tattoo artist. She can help further enhance the design and tell you how she can make your idea work. She may even suggest a better one.
Be flexible. If you have a firm design in mind that does not work but you insist on it anyway, you will be unhappy with the results.