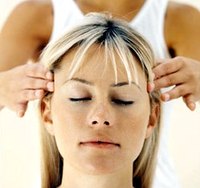 It seems most of us carry stress in our head, neck or shoulders. When you massage the head, you can help relieve some headaches and reduce overall tension from the day. It can be quite relaxing. The bonus is no oil is needed. Read on to learn how to massage the head.
Things You'll Need
Begin by rubbing the temples in a gentle, circular motion.

Next, with one or two fingers, gently rub or press and hold the spot two-thirds of the way down the forehead, between the eyes and above the eyebrows. Known as our "third eye," tension often gathers here.

With two fingers, starting at the top, center of your forehead, press into the skin and slowly slide outward, with one finger going to the right and the other going to the left, at the same time. Each finger will be moving outward in a horizontal direction. Move down a notch each time, going closer to the nose. Stop after you do this to the eyebrow area. Repeat two to three times.

Massage the ears now by gently pulling them up, out and down.

Massage the scalp using circular motions. Work the whole scalp.

Gently grab the hairs in your fingers and lightly to moderately tug several times. Believe it or not, this will help remove tension in the scalp.

Gently brush or comb the hair to promote circulation to the scalp and remove further tension from the scalp.

Find and hold your fingers right underneath the base of the skull and at the very top of the neck. This is called the occiput. This is an excellent way to remove tension.