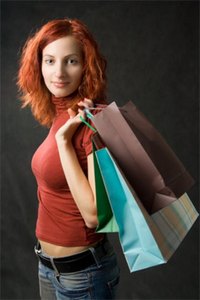 Whether you're newly single, re-entering the workforce or just need to invigorate an outdated closet, it is possible to dress well without spending a fortune. Read on for tips on how to build a women's wardrobe inexpensively, and without looking cheap.
Things You'll Need
A modest clothing budget
Sales ads or information
Courage to clean your closet
Clean out your closet. First, discard or donate clothes that you haven't worn in a year, save for special occasion outfits. Then weed through your wardrobe again and eliminate tattered items you wear simply because they are there. Removing clutter will enable you to better assess what you need.
Set a budget for your new women's wardrobe and make a list of the minimum clothing articles you need to generate enough quality outfits for five to seven days. The initial plan is to actually double the amount of wearable outfits with more creativity than cash.
Work with some basic colors to start. If the existing colors in your women's wardrobe are difficult to coordinate, start fresh. Neutral colors are some of the easiest and classiest colors to work with, including blacks, whites, browns, grays and creams. Yet, keep in mind that shades do matter. Taupes, sage or greens and khaki also works well.

Build a women's wardrobe on the cheap by limiting the initial selection to a few interchangeable outfits. Start with one or two matching two-piece suits, for instance, say one black and one red, and then add shirts, pants and skirts that will coordinate well with your two primary colors.
Decide upon a secondary color or prints for more flare and variety, if your clothing budget allows. Buy two or three tops or jackets accordingly, such as peach for browns and tans, and blue or pink for blacks and grays.
Buy two pairs of shoes while shopping for your primary women's wardrobe pieces to ensure a good match. Later, you can add to your selection, but don't forget your budget.
Make your ensembles look more plentiful by adding complimentary colors and patterns via accessories, such as scarves, belts, and decorative jewelry. This is one of the secrets to building an inexpensive, yet stylish, women's wardrobe.

Don't buy clothes to build your women's wardrobe just because the price is great. Consider how well the item will coordinate with existing clothing, how often can it be worn, does it fit well, and will the style be obsolete in six months?
Add a couple of items that can serve double duty for work and play such as semi casual jacket or a dressy blouse. Think of affordable women's wardrobe items that would look appropriate with a black skirt yet dress up a pair of jeans just as well. Double duty with clothing is a great budget saver.