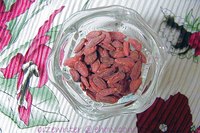 Dried goji berries, known as Lycium barbarum or wolfberries, are an increasingly popular super food touted to improve a number of health conditions, ward off disease and even provide anti-aging benefits.Yet, is it just hype? Some of it is as shown by unproven claims and dishonest retailers. Beyond that, Goji berries are apparently a good source of nutrition. With these tips, you can learn how to save money on goji berries, better avoid scams, and get the most from this source of traditional Chinese medicine.
Things You'll Need
Focus first on the macronutrients and micronutrients in goji berries, rather than unproven health claims, and assess if these are useful for your diet. Besides containing antioxidants, trace minerals and some vitamins, goji berries may improve immune function, lower cholesterol, promote kidney and liver health, lower the risk of some diseases (unproven) and improve circulation, among other claims to fame. Yet, if your diet is high in similar nutrients, goji berries may be less helpful.
Buy dried goji berries rather than goji juice to save money and better regulate nutrition. There is little evidence to support that the health benefits of goji juice exceeds that of the dried goji berries enough to justify its cost for most people. Further, some goji juice on the market is misleading as to its purity and potency. If you do buy goji juice look for that sold in glass bottles as it better ensures against degradation and oxidation.

Look for goji berries labeled as originating from Ningxia or Xinjang China rather than those labeled from Tibet or the Himalayans. Besides potentially containing more glyconutrients, due to native soil and environment, this species appears to be more well studied. Additionally, a propensity of false claims on goji berries involves those promoted to originate from Tibet or the Himalayans, with some retailers selling other than Lycium barbarum--true Chinese wolfberries.
Evaluate the Oxygen Radical Absorbency Capacity (ORAC) scale rating for the goji berries and verify that it is Lycium barbarum being measured. The ORAC scale is used by the U.S. Department of Agriculture to measure antioxidant potency. For antioxidants to be most effective, proper levels need to be maintained in the body. This is one reason dried goji berries may be effective as it is convenient to get a daily dose of the fruit.
Shop for organic goji berries, preferably labeled as USDA certified, but not to be confused with the "Green Seal," certified in China. The latter does not equate with USDA standards and some pesticides may be allowed and used. Green Seal labeling is not bad, and may provide more insurance than unlabeled counterparts, but it is not a reliable indicator of truly organic goji berries. Additionally, avoid dried goji berries that are bright red or bright orange red, which may indicate high levels of sulfites.
Compare goji berry prices online with those at local health food stores and specialty super food shops for best results. Quality dried goji berries can easily be found for under $20 a pound and even less in bulk form.