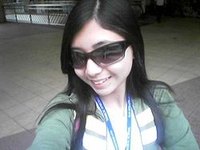 Yes, yes, we all know we really SHOULD get 8 hours of sleep a night to look our best, but who has the time? There are some nights that just do seem to go on too late, followed by mornings that come way too early...Well, a quick trip by Starbucks for a double shot of anything caffeinated may help you to wake up, but what can you do to make sure that your poor sleep deprived face doesn't look as bad as you feel?
Things You'll Need
Used teabags, cucumber slices
Exfoliating facial cleanser
Toner
Concealer
Light foundation
Pinkish blush
Lengthening mascara
Eyelash curler
Light-colored, sparkly eye makeup
Hat or headscarf
Big sunglasses
Enough sleep next time
Place slices of fresh cucumber or used (but cool) teabags on your eyes before you start to put your makeup on if you have a moment to spare. Both teabags and cucumbers seem to work wonders when it comes to tightening up puffy, baggy eyelids.
Give your face a good massage as you cleanse it. Use an exfoliant scrub if your skin feels as rough as the rest of you, and splash on some toner to help complete the skin-waking process. Then remember that SPF 15 (or 30,or 45) moisturizer so your skin isn't subjected to any more damage during the course of the day.
Use a concealer if you have dark circles under your eyes. Blend it gently with your finger in a semi-circle below your eyes, and then dust it with a little powder so it stays set.
Choose a light-textured foundation with a little shimmer to it to make your face look as fresh and glowing as you don't feel. If you use blush, choose a pinkish shade and sweep it upwards--with all your makeup, think "upwards" as a tired face on its own tends to droop and needs a bit of lift.
Brush on a lengthening mascara to open up your half-shut eyes. Thickening mascaras tend to make eyers appear even sleepier, so forget the fat lashes for today, just go for long ones. An eyelash curler can help, too, if you feel coordinated enough to use one.
Sweep your eyeliner and shadow slightly up from the corners of your eyes, too. Choose light, shimmering colors, even glittery ones. You're going for the wide-awake look here, for obvious reasons--not that it will fool anyone if you conk out in a meeting and start snoring.