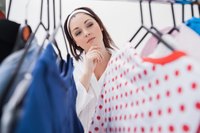 When you're trying to stretch your clothing budget, it helps to wear things for as long as you can. When certain items start looking dated, however, a few creative tweaks may help. Take a trip to a tailor or introduce some striking accessories to get another season's wear out of your clothes.
Tailor Made
A trip to the tailor might be all you need to transform old clothes. Request that pants or a dress be taken in or let out for a more flattering fit. Or have a pair of trousers cropped to turn them into more modern-looking capris or ankle-length pants. Women can have midi-length skirts hemmed so that they hit at the knee to elongate the leg. Men might have the sleeves of an old dress shirt cut to turn it into a more casual short-sleeve or camp-style shirt. A simple alteration you can do yourself includes replacing missing or inexpensive buttons on jackets, blazers or cardigans with enamel or metal styles. Attach rhinestone buttons for an evening-appropriate look.
Creative Reinvention
Wear your old clothes in a different way for an all new look. Take an oversized sweater or button-down shirt that hits at your knees, then belt it and wear it as a dress with tights. Or pair an old mini dress with leggings to turn it into a more modest tunic top. Button up the cardigan from an old twin set and wear it as a top all on its own, or turn an old mini skirt with an elastic waist into a tube top by tucking it into a pair of jeans.
Dye Job
If your favorite light-colored shirt, dress or pants is starting to look a little yellow or gray, dye it a different color. Purchase fabric dyes at a craft, art supply or fabric store in a wide variety of colors. Dye a stained white dress shirt a rich cobalt blue to spruce up work wear. Transform a pale yellow sundress with a bold magenta color. Or dye an old white T-shirt bright red or a turquoise shade for a fresh look.
Must-Have Accessories
Pin a dazzling broach at the collar of an old button-down blouse to freshen up your look. Or spruce up a faded white T-shirt by layering a scarf in a bright color or bold pattern over it. A striking statement necklace with colorful stones or dramatic chandelier earrings can make an old black dress look like new. Wearing your old clothes with new shoes can do the trick, too – pair a simple top and skinny jeans with studded knee-high boots or beaded stiletto heels to spruce up your look.