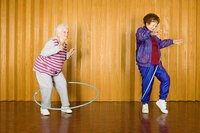 Self-esteem is a critical part of the human experience, but it can be difficult to maintain as a person ages. By encouraging him to exercise, practice self-compassion, work with challenges instead of against them and helping him to expand his social networks, you can help an elderly loved one improve his self-confidence.
Encourage Exercise
Exercise improves self-confidence in the elderly, according to a 2009 study of 179 older adults published as "Trajectories of Change in Self-esteem in Older Adults: Exercise Intervention Effects" in the Journal of Behavioral Medicine. The study, led by University of Illinois researcher Neha Gothe, found that as individuals increased their strength and condition, they also felt better about their attractiveness and demonstrated an increase in self-worth. The most improvement was seen in the groups that did exercises improving flexibility, tone and balance, as opposed to groups that did walking activities. Encourage elderly relatives to be more active if they are physically able to do so. If your aging loved one tends to avoid exercise, get involved and see if she would like to join you in an activity.
Promote Self-Compassion
Aging must come with a certain amount of acceptance. Self-compassion--fostering a nonjudgmental attitude towards oneself and accepting oneself--can improve how elderly individuals feel about their worth, suggests University of Texas educational psychologist Kristin Neff in "The Role of Self-Compassion in Development: A Healthier Way to Relate to Oneself" published in Human Development. Encourage your loved one to try using positive affirmations, such as, "I am wise," as opposed to, "I'm old." Reinforce these ideas in your words by focusing on, for example, competence, asking, "You have so much experience; what do you think about this issue?"
Meet Them Where They Are
Later life events, such as the loss of loved ones and trouble doing beloved activities, can take a toll on self-esteem in the elderly. The American Psychological Association, in an article titled "Aging and Depression," recommends those dealing with aging individuals to be tactful in their comments, as encouragement may seem like proof that their condition is declining. Think about how you might feel if you broke a leg and someone kept asking you to go running. Don't ask a loved one to do something she can't. Instead, be aware of the physical limitations she may have and respect her personal preferences when seeking out activities. Spend time with her on her terms and help her seek assistance if she seems excessively sad or anxious, since issues of self-worth can be signs of depression.
Respect Their Needs and Find Support
Changes in health and lifestyle can affect self-esteem during aging. To combat this, ask your loved one what he needs and allow him to be assertive, notes an article titled, "Self-Esteem in Older Adults," that appears on the Core Physicians website, a community-based medical practice affiliated with Exeter Hospital in Massachusetts. If you suspect your loved one can't take the trash out anymore, ask if you can help him. It is also critical to help your loved one get involved with social groups to avoid isolation. Find a church group, a local senior center or a book club and ask if he would like to attend to help expand his social networks. You can even plan more family dinners together and invite his new friends to join you. Respect your loved one's needs for assistance and friendship and you can help him boost self-worth and confidence.