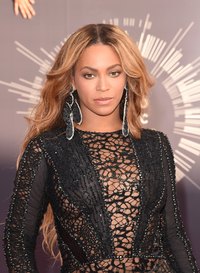 Whether she's channeling her alter ego Sasha Fierce on stage or out for a walk with Blue Ivy, Beyonce always turns heads. She experiments with fashion and beauty, planning out her looks months in advance. She carefully balances her love of dress up with her passion for embracing natural beauty, quirks and all. Revamp your look to run the world like Queen B in no time.
Queen B Hair
Beyonce isn't afraid to experiment with different hairstyles on and off stage, but her go-to look is voluminous and wavy. While Beyonce often wears wigs, you can replicate her look with hot tools. Use a volumizing shampoo and conditioner to encourage your natural hair texture. Smooth a dime-sized amount of hair oil through damp hair and allow it to air dry. Position the tail end of a rat-tail comb at the front and center of your hairline and drag it back to create a center part. Wrap 2-inch-wide sections of hair around a 1.5-inch curling wand from tip to root. Allow them to cool, then run your fingers through the curls to loosen them slightly. Spritz with a medium-hold spray to lock in waves while still looking natural.
Fresh-Faced Makeup
Beyonce's makeup focuses on fresh skin with shimmery eyes and bold lips. Use your fingertips to massage a lightweight foundation into your skin using upward circular motions. This will allow your skin to show through while masking blemishes or hyper-pigmentation. Swirl a fluffy powder brush in a bronzer that is two shades darker than your skin-tone and sweep it over your temples, the apples of your cheeks, your chin and down your neck for a healthy glow. Use a flat-topped shadow brush to pat a bronze shadow all over your lids. Pat it next to the inner corners of your eyes to highlight. Smudge a brown-kohl liner under your lower lash-line and apply a volumizing mascara to the upper and lower lashes. Pat a matte berry lipstick over your lips to finish things off.
Wardrobe Essentials
Beyonce is a fashion trendsetter whether she is jetsetting or running errands. She embraces metallics and modern cuts for special events. Look out for form-fitting gowns in gold and silver, as well as '70s style embellished jumpsuits found in vintage shops. Keep things more casual throughout the day, with boyfriend jeans, parachute pants and off-the-shoulder T-shirts. Throw on some heels or leopard print flats, and keep a fedora on hand when you're headed out for a walk.
Beauty From Within
Beyonce's confidence stems from embracing her natural beauty and taking care of her body from the inside out. She sticks to a simple skincare routine, cleansing her face morning and night and using a rich moisturizer with sunscreen in the morning. She drinks plenty of water throughout the day to help keep her skin hydrated. She likes to embrace her natural figure and stays fit doing activities that she enjoys, such as dancing for her shows. She encourages her fans to follow suit and embrace their natural looks, enhancing them instead of covering them up. Beyonce sticks to a nude manicure for day to day, but goes for long and bold nails when on stage. Massaging a vitamin E capsule into nail beds nightly helps to keep them strong.