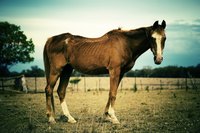 Like humans, horses come with different metabolisms and other factors that affect their weight: age, stress level, dental health and, of course, their diets. Many horses fall victim to unseen variables that also inhibit weight gain, such as ulcers or other digestive ailments. Neglected horses commonly have hidden conditions with outward consequences -- intestinal parasites is one example. Always have your veterinarian examine a horse who needs additional weight to ensure that his issue is only one of quality calories.
Body Score
Veterinarians use a body score scale, ranging from 1 to 9, to assess a horse's weight. The ideal score for most horses is 4 through 6; 3 indicates a need to gain weight, and 2 or lower is considered dangerous and should always require a veterinarian examination and advice. One body condition score is approximately 44 pounds of body weight, which your horse must gain carefully over time.
Forage Is King
The safest and healthiest way to help your horse gain weight is to increase his forage intake. This can be high-quality hay or pasture grass. Your horse benefits from forage in many ways other than caloric intake:
He has an innate foraging behavior, so this is a natural and happy activity for him.
The act of chewing forage introduces healthy enzymes and microbes into his digestive tract, preventing too much acidity and subsequent ulcer development.
If your horse is temporarily or permanently unable to effectively eat hay or grass due to other reasons -- for example, missing teeth due to age or injury -- purchase hay or other roughage in cube form that soften when soaked in water. Adding alfalfa hay in natural, cubed or pelleted form is also a good weight-gaining strategy as well as an ideal protein source. Horses love alfalfa, but large amounts should be balanced with a good phosphorus source such as wheat bran.
Excess protein excreted in the urine can also cause respiratory issues if your horse needs to be stalled for long periods. Work with your veterinarian or equine nutritionist to ensure proper nutritional balance.
Natural Circumstances Leading to Thinness
Some horses are "hard keepers" -- no matter how much they eat, they never seem to gain weight. Many Thoroughbreds fall into this category, but there are some in all breeds. This high metabolism often has to do with temperament; nervous or high-strung horses burn more calories than a calm horse.
Your geriatric equine likely has wear and tear that prevents him from easily gaining weight. It's not uncommon for older horses to have dull or missing teeth, for example. Not only is it more difficult for them to eat, but digestion is inefficient. And many horse owners don't know their horse's entire lifetime history; if your older horse didn't have adequate parasite control in his younger years, he could have intestinal damage that inhibits weight gain, even if he is currently parasite free.
Medical Circumstances Leading to Thinness
Horses with health issues are often weight challenged. Dental issues are common, so having a dental exam is at the top of the checklist. Ask your veterinarian to do a parasite fecal count and adjust his deworming program accordingly. A veterinarian exam will also unearth other possible medical conditions, such as ulcers, liver or kidney issues, cancer, and respiratory or thyroid issues.
Weight Gain Supplements
You can buy commercially prepared weight supplements, but many contain ingredients you can purchase individually so you can gauge what works without over-supplementation. Beet pulp, high in fiber, provides an important and safe energy source for horses that is easy to digest; rice bran provides similar benefits. Many commercial feeds have added fat, but consider adding more as a supplement for your underweight horse. Corn oil is easy to obtain but may cause joint inflammation; try flaxseed, fish, soybean or coconut oil. Start gradually and work up to your veterinarian's recommended amount over a two- to three-week period.