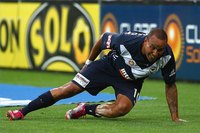 How to Recover From a Pulled Hamstring Quicker. A pulled hamstring is one of the most painful forms of leg injuries, and when not treated properly can take a long time to heal. If you have injured your hamstring and are looking for a way to recover as quickly as possible, a little rest and relaxation and some simple tips will help get you up and running as soon as possible.
Things You'll Need
Hot/cold cream, gel or lotion
Use your hamstring as little as possible while you are recovering. This can be extremely difficult, as your hamstrings are major muscle groups required for almost every movement; however, as much bed rest as possible and only gentle walking will help you recover from a pulled hamstring.
Apply a product, such as a cream or gel to the area with not only pushes fluids away to reduce swelling and inflammation but also increases blood circulation to the area. These sorts of products will create both a hot and cold sensation on the skin and should be applied regularly with massaging motions.
Place ice packs on your pulled hamstring to help recovery and sooth the pain. Ice packs should be placed on the area for about 15 minutes every 2 hours or so. Avoid using heat as the muscle recovers, as heat will cause inflammation, swelling and pain.
Stretch your legs throughout the day, but make sure that the stretches are smooth, flowing and non-aggressive. By no means should you be practicing yoga while in recovery; however, simple toe toes and leg extensions can help to keep your flexible, increase circulation and promote healing. Make sure that the stretch does not become painful, stopping at any point the movement becomes uncomfortable.
Massage your pulled hamstring to help flush toxins, decrease stiffness and promote healing. Use gentle strokes, stopping at the point of pain or discomfort. Use long flowing strokes or small circular motions, always moving towards the heart.