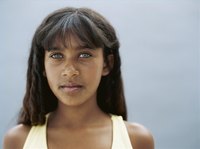 How to Get an Ear Piercing Without Freaking Out. Your first ear piercing may seem a bit scary. The piercer is placing a hole through your body, after all. However, in comparison with other types of piercings, ears are a piece of cake and while you may be nervous, you'll quickly realize just how simple it is. A few tips can help you to get your ear piercing without freaking out.
Take your time deciding what sort of ear piercing your would like, considering all of the pros and cons. Remember that you will not be able to remove the jewelry for a few months, which may make sleeping uncomfortable for awhile, and you will have to be dedicated to caring for your piercing during the healing process.
Bring a friend along with you to the piercing shop. It is especially helpful to have someone with you that has had their ears pierced, as they can help talk you through the process of getting your piercing. A friend will help to calm your nerves and can even hold your hand as the piercing is done.
Select a piercing shop that uses needles instead of piercing guns. Piercing guns can damage the tissue of your ear and usually hurt a lot more as they simply force the jewelry through your ear. A hollow piercing needle, on the other hand, is faster and actually removes a piece of skin, reducing the pain and time needed to heal. Additionally, you have a much larger selection of jewelry when getting pierced with a needle.
Have fun when selecting your jewelry. Generally you will select your jewelry in the shop just before getting pierced, when you are the most nervous. Looking at jewelry and picking something that you really like can be a great way to distract your mind and build your nerves for the actual piercing. If you can't wait to wear the jewelry, you'll have greater motivation for the piercing.
Pinch and rub your ear lobes between your thumb and forefingers as the piercer prepares the tools. This will help to numb your ears and give your hands something to do while you are waiting. Remember to relax, as pain is more intense when you are tense. Breath deeply, close your eyes and hold your friend's hand. In a few seconds the pain will be gone and you will be adorned with your beautiful new jewelry.