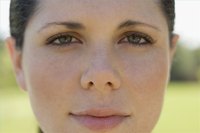 How to Improve the Appearance of a Button Nose. If you have a button nose that has haunted you your entire life, cosmetic surgery is not your only choice. You can now learn the tricks of stars like Tom Hanks and Sally Fields who strut their button noses on the big screen and still look fabulous. With a bit of makeup and some optical illusions, you can improve that button nose and streamline your features.
Things You'll Need
Makeup sponge
2 powdered bronzers
Purchase a makeup sponge and a powdered bronzer which is just one or two shades darker than your own skin tone. Make sure that you do not go too dark, or your optical illusion will end up accentuating your button nose. For best results, choose two bronzers. One which is the color you think you need, and one a shader lighter.
Place a small amount of your chosen bronzer on the sponge and apply to the side of your nose in one thick line. Make sure that the bronzer is only applied to the side of your button nose, and not to the top of the nose or the cheek bones.
Improve the look of your optical illusion by placing the lighter colored bronzer on the opposite side of the sponge and blending well into the skin. Use soft circular motions, rubbing until the makeup looks like a natural shadow.
Distract attention from your button nose and improve your overall look with a fashionable pair of oversized sunglasses. Choose frames with a medium tone, such as brown or copper and watch how your button nose immediately looks smaller under the giant frames. These sunglasses are not only the top fashion trend, they will help you feel more comfortable in your features.