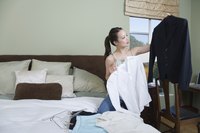 When your trip plans include landing new clients or delivering a killer wedding toast, you can't afford to wear a rumpled suit. Different travelers have different suit-packing techniques, but the key to minimizing wrinkles is to wrap pieces around one another so they don't develop sharp creases where you don't want them. Start off with a crisp, pressed suit. Even packed carefully, lightweight fabrics such as linen easily wrinkle. The thicker your suit's fabric, the better.
Things You'll Need
Tuck rolled socks, underwear or belts into each of your dress shoes to save space and help the shoes keep their shapes. Place the shoes in a cloth shoe bag and set the bag at the bottom of the suitcase. Set each shoe in the bottom of the suitcase with the sole facing out if you don't have a bag.
Lay the suit jacket down on a table or bed, lapels down. Fold the jacket arms over onto the back of the jacket, creating a rectangle shape.
Fold the dress shirt the same way you folded the jacket -- by folding the arms back to create a rectangle. Layer it on top of the jacket.
Fold the suit pants as if you were going to hang them on a hanger, with the center pleat of each leg pressed together. Fold the pants in half widthwise, or at the knee, then fold them in half again. Fold a skirt in half once lengthwise and once widthwise. Fold a vest in half once lengthwise and once widthwise.
Lay the folded pants or skirt over the top half of the layered jacket and shirt. Place the folded vest on top of the pants.
Fold the bottom half of the jacket and shirt up over the pants or skirt. Create a kind of sandwich, with the jacket as the outer layer.
Place the folded suit inside a large plastic bag. Use a bag that has a zipper top or recycle a large dry-cleaner bag. Zip or tie the top of the bag, trapping some air inside so the clothing has some cushioning.
Pack the rest of the clothing and toiletries inside the suitcase. Place the suit bag on top before closing the suitcase.