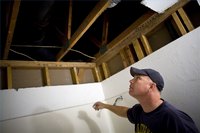 How to Select a Subcontractor. A subcontractor provides a specialized portion of a contracted job. The term is most often associated with the construction industry but a subcontractor can be anyone hired to complete an assigned job. When you choose a subcontractor, keep some guidelines in mind.
Determine the extent of the job you will choose a subcontractor to complete. If you need sheetrock installed and tiled, two separate subcontractors are necessary, one for drywall application and the other for tiling.
Prepare a job completion description. This will be a detailed drawing of the project, including measurements and an accompanying list of the work to be completed. Make your description as thorough as possible.
Call for bids. You can advertise the job or you can call known subcontractors to request a bid or an estimate. Supply them with a job completion description so they can bid competitively.
Choose the subcontractor not only by price but also on the quality of his former work. Getting a "deal" won't mean much if the work is shoddy. Ask for references to the subcontractor's last three jobs and call his clients to discuss their satisfaction.
Request a valid insurance certificate. This step is only required if you are hiring a subcontractor for a job that presents an element of risk. In the construction industry, it is imperative. The subcontractor will contact his insurer who will then mail you a copy of his policy.
Ask to see the subcontractor's credentials if the job entails a trade that is regulated in your state. Most electricians and plumbers are licensed but only a few states regulate painters, floor installers and tapers.
Use subcontractors that you know consistently produce quality work at a fair price. When you need a job completed quickly, choose a known professional. Sometimes, you don't have the luxury of asking for bids. In that case, rely upon former dealings with a subcontractor and ask him for a "ballpark" figure. Realize that his final cost may vary.