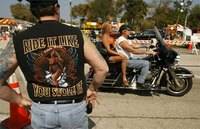 How to Open a Biker Bar. Opening a bar in general requires a lot of work and dedication. You have to get an alcohol license, find a location, and buy supplies and furniture. A biker bar is the same as any bar except you will only be catering to bikers. Learn how you can open a biker bar and start a new business.
Find the location for your biker bar. Choose a location that is away from the mainstream. A biker bar is best when somewhat secluded and private, but make sure that bikers can easily find your bar, whether it's in a rural area or in the city.
Obtain a liquor license from the government. This step is very important for your biker bar, since meeting for drinks after a long ride is what biker groups and gangs like to do. Also, decide what drinks you want to serve and create a create a bar food menu.
Decorate the biker bar in a biker fashion with Harley Davidson posters, biker memorabilia and other props. Get some dim lighting and some pool tables as well. If you want to you can cover the walls with biker memorabilia.
Find out what local bikers listen to, and then buy and play music that bikers will enjoy. You could even get a jukebox or get local bands to play in your bar.
Hold a grand opening party for your biker bar. Invite all of your biker friends and ask them to invite any bikers they know. Have food, drinks and music on hand.
Promote the biker bar through ads and coupons, especially in a local biker magazine or websites. Buy an ad in an alternative entertainment weekly newspaper, if your city publishes one. Put flyers up promoting your new biker bar saying 'all bikers welcome' near other venues where bikers congregate.