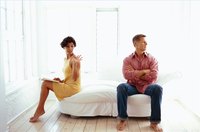 How to Ignore Someone You Live With. There is such a thing as too much togetherness. Although you love your siblings, parents, roommate or spouse, sometimes you need to tune out their nonstop talking or annoying habits. Consider ways to ignore someone you live with without hurting their feelings.
Establish a schedule that allows you to avoid someone. Eat breakfast and head for school just as she's waking up or sleep in until she's gone. Schedule work shifts in the evening and have dinner after she's gone upstairs. Sign up as a volunteer for a local charity on the weekend when everyone is home, for instance.
Find reasons to be in a different room. If you're trying to ignore someone in who's watching television in the family room, read a book in the living room because it's quieter there. Make a snack and take it to your room rather than sitting in the kitchen with the family because you need to study.
Take a class at your local recreation center or community college. The meetings and projects will keep you busy, out of the house and possibly introduce you to new friends who you can hang out with outside of class.
Stock your room so you'll have to leave it as little as possible and have fewer opportunities to encounter your roommate. Buy a mini-refrigerator to hold snacks and water and get your own phone line and television, for example.
Pretend you've tuned out the person if he's trying to annoy you deliberately. Busy yourself with another activity, like preparing a snack in the kitchen, being engrossed in a television show or looking for something in the cabinet. If you're walking from room to room, wear headphones and listen to music, make a call on your cell phone or read a book intently.