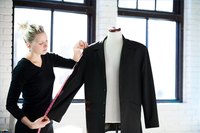 How to Measure a Man's Sleeve Length. Although different men's shirt manufacturers have slightly different sizing rules, You still measure your sleeve length the same way. Getting proper sleeve measurements is particularly important when ordering online or by mail, because you cannot try on the garment before buying.
Remove any clothing with sleeves before measuring. Stand straight and hold your arm so that it is bent and your hand rests on your hip. Ask someone to help you measure your arm.
Begin measuring, with a tape measure, at the middle point of the back of your neck. Move across the top of your shoulder to the point where your arm and shoulder meet. Write this number down and keep it in case you need it for different shirt styles.
Continue pulling the tape measure down your arm and over your elbow.
Pull the tape measure to just below the wrist bone and note the measurement.
Round your measurement up to the next whole number. Men's shirts come in whole number sleeve lengths.