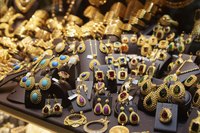 The simplest name to use for a jewelry business is your own. If you're using Jane Smith Jewelry, for example, you don't have to register a "doing business as" name with your county government. If all you plan to do is sell jewelry out of your home, that may be good enough. If you have bigger plans for your business, a more eye-catching name may help.
Style and Image
A name that conveys the style of your work can be a good choice. If you specialize in emeralds or topazes, for example, the name should mention that. If you create retro pieces in a 1930s style, "classic" makes more sense than "contemporary." Ask friends for input if you're not sure how to describe your style. Also, think about the image you want to convey to possible buyers, such as elegant, funky, whimsical or traditional.
Draw Up a List
Take the words you came up with and then play around with them. Change the spellings, mix and match them, look for synonyms and foreign language equivalents. Say possible names aloud and see how they sound. Imagine how they'd look as a logo on a business card. Draw up a list of four or five names that you feel would work. David Alvarado's Irthly Jewelled Adornments, for example, evokes his concern for sustainable, Earth-friendly jewelry work. Blackbird and the Snow, owned by Marie-Juliette Bird, reflects what its designers call their "delicate, Victorian aesthetic" and their use of natural elements in jewelry design.
Doing Research
The next step is to see if your top name is already taken. Use the U.S. Patent Office's trademark-search tool to find out if the name matches or infringes on another company's trademark. If you're incorporating, search your state's database of corporations for existing corporate names. Check a database of domain names to find out if you can use the name you want for your website. If the name is taken try number two on your list.