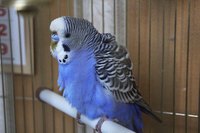 Unfortunately, feather plucking often is a difficult problem to remedy. In some cases, it's impossible. You may need to try several different solutions before the behavior subsides. Feather plucking can be caused by a variety of factors. Assess all aspects of your bird's life and care: Begin by consulting your veterinarian, then try to alter your pet's environment -- and ensure that you are accommodating his social and emotional needs.
Veterinary Assessment
The Merck Veterinary Manual lists parasites, liver disease, internal tumors, skin diseases, endocrine disorders, allergies and heavy-metal poisoning as some of the most common medical causes of feather-plucking behavior. Your bird's doctor will work to rule out or diagnose each of these as a potential cause. The vet may prescribe anti-anxiety medications when appropriate. Your veterinarian should review your bird's nutritional needs -- if they're not met, feather plucking is a possible outcome.
Complicate the Environment
A 2003 study published in "Applied Animal Behavior Science" found that increasing the complexity of a captive bird's habitat -- for example, by adding more perches and a substrate that encourages foraging -- decreased the frequency and severity of feather-plucking behavior. Providing new toys and different types of foods may help. Low humidity levels can cause birds to experience skin or feather problems, so you may need to install a cool-air humidifier or mist your bird regularly with water to keep the pet's skin and feathers healthy. Provide your bird with appropriate lighting; replace flickering light bulbs. Give your bird a consistent daily light cycle: 12 hours of light and 12 hours of darkness each day.
Social and Emotional Needs
According to a 2001 study by J.R. Jenkins of the Avian and Exotic Animal Hospital in San Diego, California, some species are predisposed to developing plucking behaviors, indicating that the condition is likely heritable to some degree. In general, the condition is more common among species that form large flocks. Unfortunately, the obvious solution to this problem -- obtaining a mate or companion for your bird -- does not ensure success. While some birds may embrace their new friend, others may bully a new bird. An alternative is to give your bird more of your attention and a more complex environment. Unfulfilled sexual urges also lead to anxiety that may culminate in feather plucking; avoid stroking your bird's back, which your pet may interpret as courting behavior.
The Hard Truth
Sometimes, it is not possible to stop a bird from plucking his feathers; even cases that resolve rarely do so quickly. According to avian behavioral consultant Michelle Karras in a 2005 interview with "Bird Talk" magazine, rectifying a feather-plucking problem often requires a period equal to the time the bird has been exhibiting the behavior. This illustrates the need for prompt action the first time you observe your bird exhibiting feather-damaging behaviors.